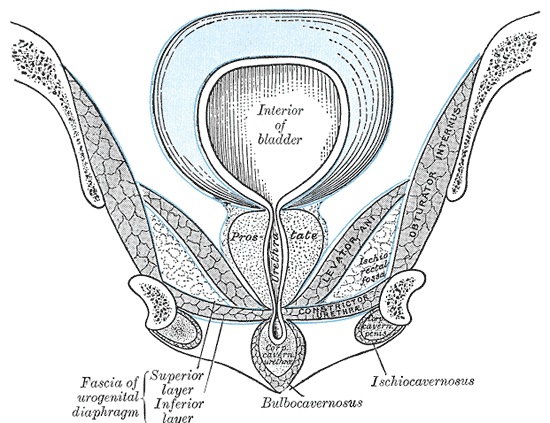 Utilizing prostatic artery embolization (PAE) to shrink the prostate without surgery can provide long-term relief to men with benign prostatic hyperplasia (BPH), a common condition that causes annoying symptoms such as frequent trips to the bathroom. Results from a study of nearly 500 men receiving PAE treatment were presented at SIR's annual meeting. Researchers reported that 72% of men experienced symptom improvement three years after the minimally invasive, image-guided treatment. "The results of prostate artery embolization are similar to surgery but with fewer complications," said J. Martins Pisco, MD, PhD, lead study author and director of radiology at St Louis Hospital in Lisbon, Portugal. "Patients are discharged three to six hours after the treatment, with most of the individuals we've treated noting almost immediate symptom relief. I believe PAE could eventually become standard treatment for enlarged prostate."
An enlarged prostate presses on the urethra and causes urinary urgency, weakened stream, incomplete bladder emptying, and passing urine more often, particularly at night. "Such symptoms can have significant negative impact on quality of life, leading many men to seek treatment," said Pisco, who noted that this condition affects more than 50% of men by age 60.
The standard treatment for BPH is surgery, which requires general anesthesia and can cause complications such as urinary incontinence, sexual dysfunction, impotence, and retrograde ejaculation, in which semen enters the bladder. PAE, which can be performed under local anesthesia, involves temporarily blocking blood flow to the arteries that supply the prostate.
"Our study confirmed that PAE does not cause sexual dysfunction and preserves fertility," said Pisco, who indicated that this is the largest study of its kind. He said that 148 (31.6%) of the treated patients reported improved sexual function. "We also found that the larger the prostate and the more severe the symptoms are, the better the results of PAE," Pisco said.
Success rates in 469 patients aged 45 to 89 treated with PAE were as follows: 87.2% at three months, 80.2% at 18 months, and 72.3% at three years. One patient suffered from lack of blood flow to the bladder wall that was corrected by surgery, and one patient had pain that lasted three months. In cases where the problem recurred, it often could be retreated with PAE, Pisco added.
Several US trials are under way to evaluate PAE. "These results are very promising for American men," said SIR President James B. Spies, MD, MPH, FSIR. Spies, who also is the chair of the radiology department at MedStar Georgetown University Hospital and a professor of radiology at Georgetown University Medical Center in Washington, D.C., is a principal investigator on one of the ongoing US PAE trials. He noted that additional study is needed to further establish the treatment's safety, efficacy, and durability before it will become broadly available in clinical practice.
Source:  Radiology Today