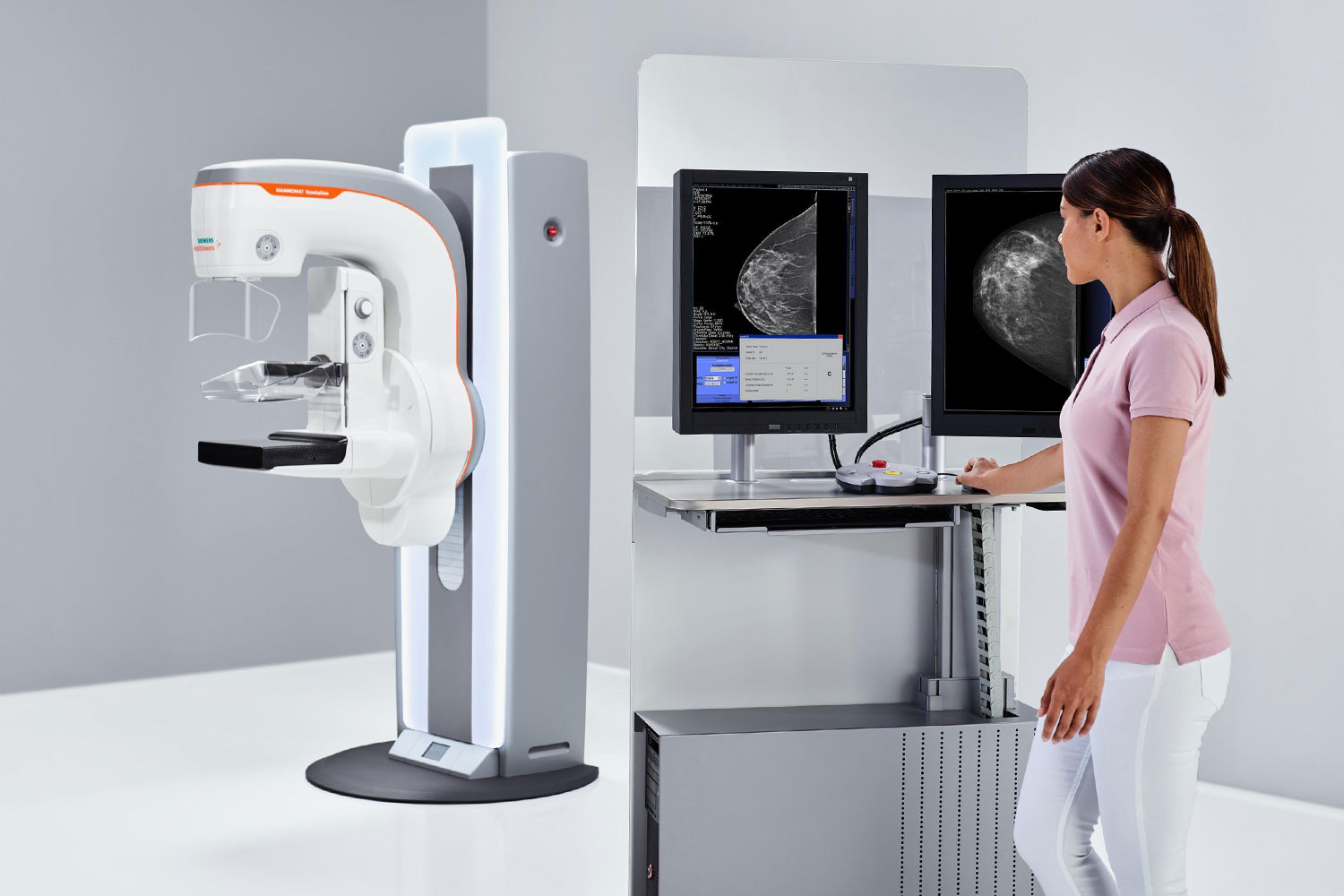 Breast cancer is the most common cancer in women. To treat it, you must find it. If you find it early, you have a greater chance of an accurate diagnosis and effective treatment plan.
For years, the gold standard in breast cancer screening has been 2D mammography. Unfortunately, it doesn't always deliver clear results. Traditional 2D mammograms suffer from decreasing sensitivity as the density of a woman's breast tissue increases, or when breast tissue overlaps. This can result in unclear images that leave health providers unsure of what they see, and can lead to cancers being missed.
IPMC Medical Center now offers MAMMOMAT Revelation with wide-angle breast tomosynthesis. It's state-of-the-art 3D mammogram technology that is proven to detect breast cancer better than traditional 2D mammography alone. We're using it in our practice to give our patients new confidence in their breast health.
Unlike 2D mammography, 3D wide-angle breast tomosynthesis takes many x-ray pictures of each breast from many angles that are not available in traditional mammography. The x-ray tube moves in a 50-degree arc around the breast, taking 25 images during the exam. Those images are then sent to a computer, where they are assembled into a 3D picture of the breast. The result is a clearer image that helps health providers detect malignant tumors better than standard 2D mammography alone, with fewer recalls.
We introduced wide-angle tomosynthesis as an adjunct to 2D mammography because we want you and your family to be sure. We love its wide-angle imaging and the clarity it offers our doctors. We think it will save lives because it leaves breast cancer no place to hide.
The advantage of wide-angle, next-generation 3D mammography
MAMMOMAT Revelation, from Siemens Healthineers, is the next generation of 3D mammography (breast tomosynthesis). Its unique wide 50-degree angle, the industry's highest depth resolution, captures more detail for extremely high-quality 3D images that increase diagnostic confidence and enable earlier detection of even subtle lesions.
MAMMOMAT Revelation is also the first mammography platform to provide automated breast density measurements at the point of examination.  High breast density can increase the risk of developing cancer. Currently, breast density is estimated visually during the image reading process, usually after the patient leaves. With MAMMOMAT Revelation, getting this information during the exam enables immediate and personalized risk assessment, and allows IPMC to provide supplemental imaging while the patient is in her exam.
The comfort of personalized compression
Compression is key to getting an accurate mammogram. However, the associated discomfort and pain are key reasons why women avoid mammography exams. It was important to us to remove any barrier that could stop a woman from getting the screening she needs. With MAMMOMAT Revelation's Personalized Soft Compression, each woman gets exactly the right amount of compression for her breast type. The force is automatically adjusted for the greatest individual comfort without losing any accuracy.
We are thrilled to bring this breakthrough technology to Philadelphia. When breast cancer is found early, the chances of survival are greatly improved. And MAMMOMAT Revelation is the best system to provide the quality images and patient experience to make early detection possible.
---
Learn more about mammography at IPMC Medical Center.
Learn more about MAMMOMAT Revelation's 3D wide-angle breast tomosynthesis at IPMC Medical Center.
To schedule a mammogram at IPMC, call 214-464-3300.